wiiw Handbook of Statistics 2014: Central, East and Southeast Europe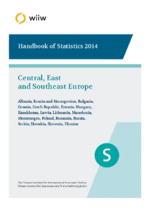 The Handbook is published annually and contains revised, updated and expanded annual statistics.
Time series and related tables are extracted from the Annual and Foreign Direct Investment Databases maintained and regularly updated by wiiw.
The hardcopy includes a PDF on CD-ROM (with identical content as the hardcopy).
19 countries covered in detail
Time series given for 2000, 2005, 2010-2013
Reliable data, comparable across countries for a broad range of economic indicators
New features:
New design and layout of tables backed by meaningful maps
National accounts ESA 2010 and balance of payments 6th edition (BPM6) already included for the majority of countries
Key indicators are now available also for the remaining EU countries, USA and Japan allowing for easy cross-country comparisons
CONTENT
I. Cross-country overview
II. Indicators by country
III. Structural indicators
1. Gross domestic product by activities
2. Gross domestic product by expenditure
3. Gross fixed capital formation by type and activities
4. Employment by activities
5. Average gross monthly wages by activities
6. Foreign trade by partners
7. Foreign trade by commodities
8. FDI inward stock
9. Balance of payments
Examples
Related Publication
The Excel version contains:
data in Excel both by indicator as well as by country
time series from 1990 - 2013
Reference to wiiw databases: wiiw Annual Database, wiiw FDI Database
Countries covered: Albania, Bosnia and Herzegovina, Bulgaria, Croatia, Czechia, Estonia, Hungary, Kazakhstan, Latvia, Lithuania, North Macedonia, Montenegro, Poland, Romania, Russia, Serbia, Slovakia, Slovenia, Ukraine
ISBN-13: 978-3-85209-040-5
Related News