wiiw Industrial Database 2010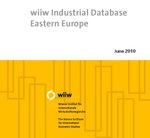 wiiw Industrial Database Vol. 2010, June 2010
Please note:
Data for period 1989 - 2008 only
Data refer to NACE Rev. 1 classification
Available for free in Excel format
Related Publications
Content
The wiiw Industrial Database
is a tool for historical analysis of industrial restructuring and changing patterns of specialisation in Central, East and Southeast Europe during the period 1989 - 2008
covers 13 countries, a long time span and a wide range of indicators
allows for a comparison across countries, individual industries and over time
General Description
13 Countries covered:
Bulgaria, Croatia, the Czech Republic, Estonia, Hungary, Latvia, Lithuania, Poland, Romania, Russia, Slovakia, Slovenia and Ukraine.
Time period covered:
1989 - 2008, Ukraine until 2009
Industries provided:
The data are arranged according to NACE Rev. 1 sections of industry and 14 subsections of manufacturing (C, D, E; DA, DB ... DN). For some countries even more disaggregated data of manufacturing industry at the level of NACE Rev. 1 divisions (15, 16 ... 37) are available .
Indicators:
Around 30 economic indicators are covered focusing on production, employment, productivity, wages, unit labour costs and foreign trade.
The whole dataset is provided by country and by industry.
Sources:
national statistical sources supplemented by wiiw interpolations, and international statistical sources.
Keywords: industrial studies
Countries covered: Baltic States, Bulgaria, Visegrad countries, Croatia, Czechia, Estonia, Hungary, Latvia, Lithuania, Poland, Romania, Russia, SEE, Slovakia, Slovenia, Ukraine
Research Areas: Sectoral studies