China on the cusp of double-digit growth (press conference presentation)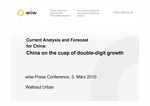 For the German presentation click HERE.
The Vienna Institute for International Economic Studies (wiiw) has just published its latest
Analyses and Forecasts
.
The report, titled 'Crisis Is Over, but Problems Loom Ahead ', includes an analysis of the latest economic developments and a forecast for China.
China's economy expanded at a rate of 8.7% in 2009, exceeding most forecasts made earlier in the year. The fast growth of the economy despite a big slump in exports was due to massive stimulus measures of the Chinese government driving investment in fixed assets and supporting private consumption. With the expansive fiscal policy still in place and foreign demand picking up, the Chinese economy may grow even faster this year, probably reaching a rate of 9.5%. In 2011, given the continued recovery of the world economy, we expect a further acceleration of GDP growth; in 2012, China's economy might experience double-digit growth again.
Reference to wiiw databases: wiiw Annual Database
Countries covered: China
Research Areas: Macroeconomic Analysis and Policy