Die "Europäische Seidenstraße"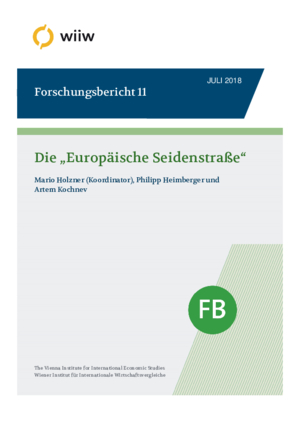 The English version can be found here.
In dieser Studie argumentieren wir für einen "Big Push" bei den Infrastrukturinvestitionen im größeren Europa. Wir schlagen den Bau einer "Europäischen Seidenstraße" vor, welche die industriellen Zentren im Westen mit den bevölkerungsreichen, aber weniger entwickelten Gebieten im Osten des Kontinents verbinden und damit für mehr Wachstum und Beschäftigung sowohl kurz- als auch mittel- und langfristig sorgen soll.
Im Vollausbau soll die "Europäische Seidenstraße" auf dem Landweg rund 11.000 Kilometer auf einer Nordroute von Lissabon bis Uralsk an der russisch-kasachischen Grenze und auf einer Südroute von Mailand bis nach Wolgograd und Baku verlaufen. Kernstücke sind im Norden die Strecke von Lyon bis Moskau und im Süden von Mailand bis Konstanza. Die Südroute würde Mitteleuropa mit dem Schwarzmeerraum und den Anrainerstaaten des Kaspischen Meeres verbinden.
Eine moderne Autobahn- und Hochgeschwindigkeitszugstrecke mit einer Reihe von Logistikzentren, See-, Fluss- und Flughäfen soll neue europäische Standards unter anderem in der E-Mobilität setzen. Der Vollausbau würde rund 1.000 Milliarden Euro oder rund 8% des Bruttoinlandsproduktes der auf den beiden Routen liegenden Länder ausmachen. Die Kosten relativ zur Wirtschaftsleistung der EU machen rund 7% aus.
Über einen Investitionszeitraum von 10 Jahren könnte die "Europäische Seidenstraße" entlang der Routen nach einer konservativen Schätzung zu einem Wirtschaftswachstum von durchschnittlich 3,5% und einem Anstieg der Beschäftigung von rund 2 Millionen führen. Unter günstigen Umständen und bei weiterhin anhaltenden niedrigen Zinsen kann mit einem Beschäftigungseffekt von über 7 Millionen im größeren Europa gerechnet werden.
Alleine auf der Nordroute in den russischen Zentralraum könnte die verbesserte Infrastruktur der Kernstrecke bedeutende Zeitersparnisse von über 8% im Straßentransport bringen. Das wäre im Schnitt und beispielsweise auch ab Wien eine Ersparnis von rund 2,5 Stunden. Damit könnten die Länder entlang der Nordroute ihre Exporte nach Russland um über 11% steigern. Dies würde zusätzliche Exporte von über 12,5 Milliarden Euro bedeuten.
Die österreichische Exportwirtschaft würde ganz besonders von diesen Infrastrukturmaßnahmen profitieren. Österreichs Russland-Exporte würden um über 14% ansteigen. Das sind rund 330 Millionen Euro. Die Baumaßnahmen bringen Österreich 34.000 Arbeitsplätze. Unter günstigen Umständen könnten bis zu 121.000 neue Jobs in Österreich geschaffen werden.
English Summary
A 'European Silk Road'
The study concludes that Europe should respond to China's New Silk Road initiative with a coherent infrastructure network and transport strategy of its own to leverage its economic potential. It should not rely on China's Belt and Road Initiative (BRI) to achieve this, but invest itself to ensure that it suits European priorities. Nevertheless, a 'European Silk Road' can be seen as complementary to China's efforts. The study finds that the development of a European Silk Road could create 2-7 million new jobs and could increase GDP on average by 3.5% in Wider Europe over a ten-year period. Eastern Europe in particular needs an upgrading of its transport infrastructure. If this is achieved, the boost to incomes and living standards would be particularly significant in that part of the continent, as a 'big push' in transport infrastructure investment has the potential to industrialise broad sectors of the economy.
Reference to wiiw databases: wiiw Annual Database
Keywords: Infrastruktur, Transport, Europa, China, Seidenstraße, Wachstum, europäische seidenstrasse, Industrialisierung, Internationaler Handel, infrastructure, transport, Europe, China, Silk Road, growth, industrialisation, international trade
JEL classification: H54, O18, R41, R42, L92
Countries covered: Asia, Wider Europe
Research Areas: Macroeconomic Analysis and Policy, International Trade, Competitiveness and FDI, Sectoral studies