How Much Do Trading Partners Matter for Austria's Competitiveness and Export Performance?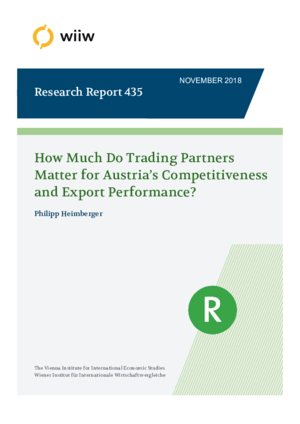 publication_icon
wiiw Research Report No. 435, November 2018
27 pages including 5 Tables and 6 Figures
Based on a panel data set for 38 European countries over the period 1995-2014 and by using the definition of 'foundational competitiveness', which we operationalise as GDP per working-age individual at PPP, this paper analyses how much trading partners matter for the national competitiveness of European countries. Results based on a growth regression framework show that higher growth of trading partners' competitiveness has a positive impact on the growth of national competitiveness. We find evidence that there are diminishing national returns to increasingly competitive trading partners, but we cannot find strong evidence for a lock-in effect of Austria with the CESEE region. Furthermore, regression results on the determinants of the Austrian bilateral export market shares with European trading partners over 1995-2016 provide evidence that Austria's export performance is sensitive to changes in its trading partners' business cycle position, but not more sensitive than that for other selected eurozone countries.
Keywords: competitiveness, export performance, exports, trade, Austria, Europe
JEL classification: F14, L60, L80
Countries covered: Albania, Austria, Belgium, Bosnia and Herzegovina, Bulgaria, Croatia, Cyprus, Czechia, Denmark, Estonia, Finland, France, Germany, Greece, Hungary, Ireland, Italy, Latvia, Lithuania, Luxembourg, North Macedonia, Malta, Moldova, Montenegro, Netherlands, Poland, Portugal, Romania, Russia, Serbia, Slovakia, Slovenia, Spain, Sweden, Switzerland, Turkey, Ukraine, United Kindom
Research Areas: Macroeconomic Analysis and Policy