Iranians head to polls for crucial election

18 May 2017
The result is too close to call, but the outcome will have important implications for the economy and foreign policy. A commentary by Mahdi Ghodsi.
photo: Iran Grunge Flag, Nicolas Raymond, CC-BY-2.0
Iran will hold its twelfth presidential election on May 19th, with the reformist incumbent Hassan Rouhani slight favourite to win.
Mr Rouhani has several strengths over his opponents. His time in office has seen a sharp improvement in the economy and better relations with foreign countries. He has more economic credibility than those standing against him.
Moreover, Mr Rouhani should benefit from the growing youth vote, which on average is likely to favour him over his more conservative opponents.
However, the recent uniting of conservative voices around one candidate--Ebrahim Raisi—makes the election much tighter and harder to call.
If Mr Rouhani wins, the economy should continue to perform well, and external relations are likely to improve further. However, victory for Mr Raisi risks a return to the economic mismanagement and confrontational foreign policy stance of the past.
On 19 May 2017 Iran will hold its twelfth presidential election. Six candidates are standing, all of whom went through a vetting process by the Guardian Council (1). While the Council is directly and indirectly selected by the Supreme Leader, Ayatollah Ali Khamenei(2), voters still have the chance to choose from the vetted candidates. Voter participation is expected to be higher than previous elections given that the outcome will have an important bearing on Iran's future.
The incumbent moderate president Hassan Rouhani is seeking his second term in office. Alongside Mr Rouhani, his first Vice President, Eshagh Jahangiri is also standing, as a reformist candidate. However, Mr Jahangiri is not standing in expectation of victory; he himself defines his candidacy as mostly to support the current president in the campaign. The third reformist candidate is Mostafa Hashemitaba. On the opposing conservative side, there were initially three candidates, Ebrahim Raisi, Mostafa Mir-Salim, and Mohammad Bagher Ghalibaf. However, the latter recently pulled out of the campaign in favour of Mr Raisi.
Rouhani is the slight favourite to win...
President Rouhani has had a mostly positive economic impact since taking office, which will help his re-election chance. He took over a mismanaged economy from Mahmoud Ahmadinejad in August 2013 with inflation running at around 34% and the economy in deep recession.
Figure 1 – Main indicators of Iran economy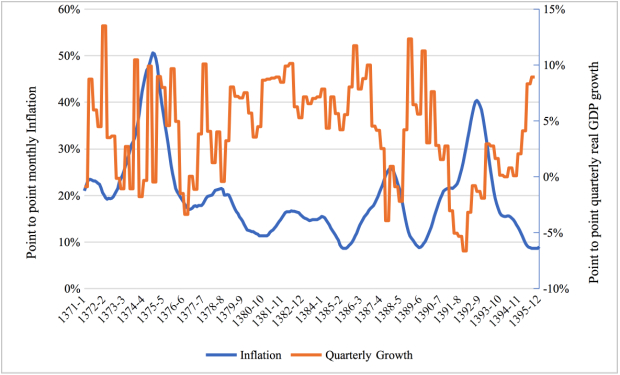 Mr Rouhani has significantly improved Iran's economic performance during his time in office. He managed to reduce annual inflation to single digits for the first time in 25 years, and his banking reform bill reformed a financial sector that had been excessively undisciplined under the previous administration. In combination with increased oil sales (despite lower prices), these efforts helped the economy to grow by 6% last year.
In external relations, Mr Rouhani has also had some notable successes. The president has taken advice from technical experts, and included technocrats in his cabinet and academic advisory board. This contributed to the successful closing of a historical deal with the West known as the Joint Comprehensive Plan of Action (JCPOA), implemented on January 16th 2016. The deal helped Iran to gain oil market share. Relations with the European Union also improved, bringing with it FDI and facilitating trade.
In addition to notable economic and foreign policy successes, Mr Rouhani has other factors in his favour. He is likely to be the favoured candidate of a large percentage of young voters in Iran, many of whom are seeking greater social and cultural freedom. In addition, since the creation of the Islamic Republic, all presidents have won a second term in office. Mr Rouhani has received the support of the former reformist President, Mohammad Khatami – who achieved above twenty million votes in 1997 – and is popular among the older generation.
…but it is far from a done deal
While Mr Rouhani has had some notable achievements, Iran continues to face many economic challenges. One of the major critiques of Rouhani's government by the conservatives is the level of unemployment, which currently stands at 15-17%(3). Although around 600,000 new jobs are currently being generated per year, and the high unemployment rates are to a large extent caused by demographic patterns related to government incentives for having more children during the time of Iraq-Iran war, this could still affect Mr Rouhani's popularity among voters. (Figure 2).
Figure 2 - Iran demography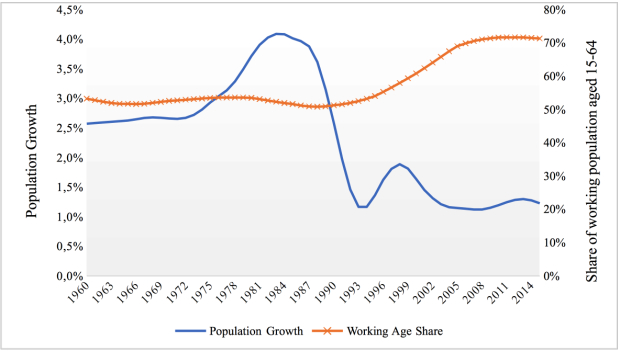 Conservatives have also criticised Mr Rouhani for what they claim has been no significant change in the facilitation of trade and foreign direct investment (FDI). Although Mr Rouhani's efforts in foreign policy have had some success, the level of exports is yet to return to pre-sanctions levels. Moreover, hostility between Iran and the US has not disappeared, especially since Donald Trump became US president. These hostilities are not closely linked to the actions of the Rouhani government, but rather to Iran's military activities and continued tensions with US allies in the region. Iran still writes "Death to America" on its missiles during war games conducted by the military. Large multinational enterprises are still avoiding making deals with Iran, given that they fear possible new sanctions by the US.
The biggest threat to Mr Rouhani's chances of reelection, however, is the recent decision by Mr Ghalibaf to withdraw from the race. Mr Ghalibaf is a former Revolutionary Guard and Chief of Police, who has been the mayor of Tehran for the past twelve years. This was the third he had run for presidential (on the second occasion he came second). In recent days, Mr Ghalibaf announced that he will step aside in favour of Mr Raisi, potentially because of alleged corruption scandals on his role in Tehran real estate, which had already distracted some of his voters. The effect of this is that many of his votes will go to Mr Raisi, significantly increasing his share of the vote.
Outcome of election will have big implications for economy and foreign relations
History shows that Iranian conservatives have not been successful in managing the economy, in part because they do not seek relevant technical expertise. In contrast, moderates and reformists have tended to seek the insights of technocrats and academics, and in doing so have been partly successful in improving economic management.
If Mr Rouhani wins, the government will continue with its attempts to liberalise the economy, in order to increase both trade and investment. The president has approved economic, social, and environmental plans which are set to be implemented. However, if Mr Raisi wins, the outcome will be very different.
[Anker]  Mr Raisi is seen as a hardliner, and also as one of the four judges in the late 1980s ordering numerous executions and imprisonments. He is also thought to be a candidate for the next supreme leadership (the chance of which will increase if he becomes president). He has promised the creation of six million new jobs, and increased budget transfers to the three bottom deciles of income distribution if he wins. This populist rhetoric is very similar to that of Mr Ahmadinejad, who successfully gained the support of the poor population in rural areas and Islamic hardliners, while allocating no budgetary resources for such promises. Moreover, as noted by Rouhani in one of the televised debates, Mr Raisi's team of economic advisors are mostly those of Mr Ahmadinejad's who had mismanaged the economy. Meanwhile, if Mr Raisi is elected, Iranian foreign policy will again become more distant from the international and western community, as he is primarily seeking improving relations with the neighboring countries.
Footnotes:
(1) Around 1400 people registered for the candidacy of this election. Ahmadinejad and one of his deputies also registered but were disqualified by the Guardian Council.
(2) The Guardian Council of Constitution comprises of six Islamic clerics directly selected by the Supreme Leader, and six jurists elected by the Parliament and nominated by the Head of the Judicial Power who is directly elected by the Supreme Leader.
(3) According to unofficial sources presented by the candidates during the televised debates.