Österreichs Gemeinden im Kontext der Covid-19-Krise: Finanzausgleich bei steigenden Investitionsbedarfen und sinkenden Einnahmen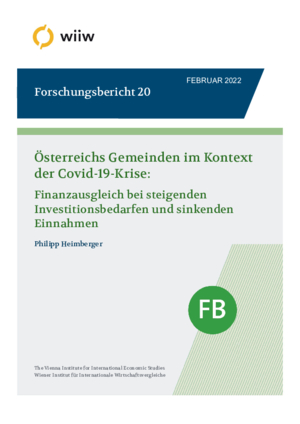 publication_icon
wiiw Research Report in German language No. 20, February 2022
55 pages including 2 Tables and 24 Figures
This publication is available in German language only.
For a brief English summary see further below.
Diese Studie diskutiert die Rolle der österreichischen Gemeinden im Hinblick auf Bildung, Pflege und Klima vor dem Hintergrund der Einnahmen- und Ausgabenentwicklung und des Finanzausgleichs. Die Covid-19-Krise wirkt sich negativ auf die Gemeindefinanzen aus, die Steuerreform verursacht Mindereinnahmen. Zwei Gemeindepakete kompensierten teilweise die krisenbedingten Einnahmenausfälle. Doch die Nettoinvestitionen der Gemeinden sanken im Jahr 2020. Ein Investitionsstau – wie nach der Finanzkrise – könnte zu erheblichen langfristigen Problemen im Bildungs-, Pflege- und Klimabereich führen. Die Studie diskutiert politische Handlungsoptionen, um die Gemeinden im Hinblick auf das Tätigen von wichtigen Investitionen und Zukunftsausgaben in den Kernbereichen Bildung, Klima und Pflege zu unterstützen. Eine zentrale Rolle spielt dabei der kommende Finanzausgleich.
English Summary
Austria's Municipalities in the Context of the Covid-19 Crisis: Fiscal Equalisation in the Face of Rising Investment Needs and Declining Revenue
This study discusses the role of Austrian municipalities with regard to education, care and climate against the background of revenue and expenditure developments and fiscal equalisation. The Covid-19 crisis has a negative impact on municipal finances, the tax reform leads to revenue shortfalls. Two municipal packages partially compensated for the crisis-related revenue shortfalls. But the net investments of municipalities declined in 2020. An investment backlog - like after the financial crisis - could lead to significant long-term problems in education, care and climate policy. The study discusses policy options for strengthening the finances of municipalities and their investment activities.
Keywords: Gemeinden, Österreich, Investitionen, Finanzausgleich, Fiskalpolitik, Verschuldung, Bildung, Pflege, Klima
JEL classification: H71, H72, H74, H75, H76, H77
Countries covered: Austria, EU-27
Research Areas: Macroeconomic Analysis and Policy
Related Project