wiiw Forecast Reports
What does China's Belt and Road Initiative mean for CESEE, and how should the EU respond?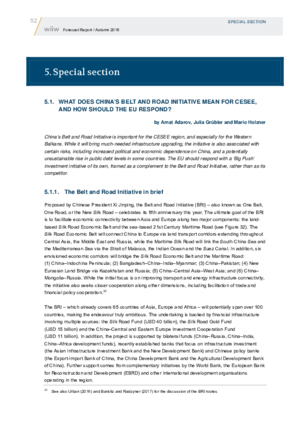 publication_icon
Amat Adarov, Julia Grübler and Mario Holzner
in: Strong Growth Amid Increased Negative Risks
wiiw Forecast Report No. Autumn 2018, November 2018 , pp. 50-51
China's Belt and Road Initiative is important for the CESEE region, and especially for the Western Balkans. While it will bring much-needed infrastructure upgrading, the initiative is also associated with certain risks, including increased political and economic dependence on China, and a potentially unsustainable rise in public debt levels in some countries. The EU should respond with a 'Big Push' investment initiative of its own, framed as a complement to the Belt and Road Initiative, rather than as its competitor.
Reference to wiiw databases: wiiw Annual Database, wiiw Monthly Database
Countries covered: China, Western Balkans
Research Areas: International Trade, Competitiveness and FDI