wiiw Forecast Reports
What does China's Belt and Road Initiative mean for CESEE, and how should the EU respond?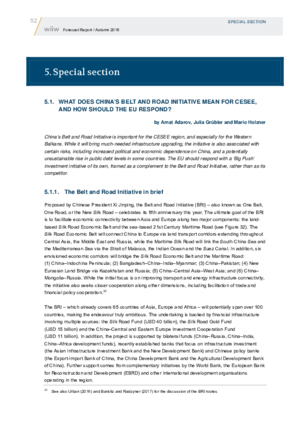 The current report is only available to members and paying customers. Past issues become freely available online when the next report is released. Several individual sections of the report are freely available to download now (see below).
China's Belt and Road Initiative is important for the CESEE region, and especially for the Western Balkans. While it will bring much-needed infrastructure upgrading, the initiative is also associated with certain risks, including increased political and economic dependence on China, and a potentially unsustainable rise in public debt levels in some countries. The EU should respond with a 'Big Push' investment initiative of its own, framed as a complement to the Belt and Road Initiative, rather than as its competitor.
Reference to wiiw databases: wiiw Annual Database, wiiw Monthly Database