Holding Together what Belongs Together: A Strategy to Counteract Economic Polarisation in Europe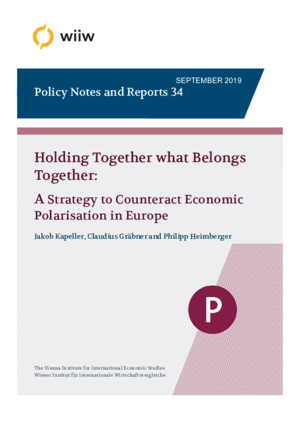 publication_icon
Claudius Gräbner, Philipp Heimberger and Jakob Kapeller
wiiw Policy Note/Policy Report No. 34, September 2019
7 pages including 3 Figures
The 2017-2018 economic upswing in the EU only masked the underlying economic polarisation in the bloc, which will again become more evident as the economy continues to cool.
What could a European strategy look like that counteracts the existing structural polarisation and thereby strengthens the cohesion of Europe? Based on a new study, this policy brief provides a sketch of policy suggestions on which the European Commission or leaders of EU member countries could take the lead, including:
Coordinated industrial policy programmes
Measures against rising income (and wealth) inequality
Institutional reforms of the eurozone
Further reforms of the financial sector
Efforts to harmonise social and ecological regulation in the EU towards higher common standards
Wage and fiscal policies geared towards reducing excessive current account surpluses
Measures to counteract tax avoidance by international corporations.
Keywords: Europe, European integration, economic openness, competitiveness
JEL classification: B5, F6, F45
Countries covered: European Union, France, Germany, Italy
Research Areas: Macroeconomic Analysis and Policy, International Trade, Competitiveness and FDI