Immigration and Offshoring: Two Forces of Globalisation and Their Impact on Employment and the Bargaining Power of Occupational Groups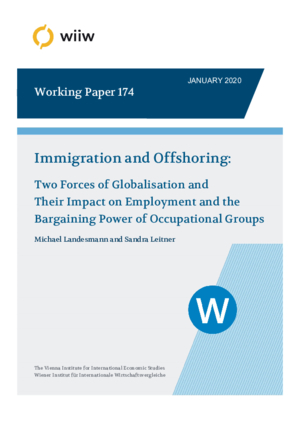 This paper estimates conditional demand models and, using a joint approach for the period 2008-2017, examines the impact of immigration and different measures of offshoring on the labour demand and demand elasticities of native workers in four different types of occupational groups: managers/professionals, clerical workers, craft (skilled) workers and manual workers. The analysis is conducted using data for four EU economies: Austria, Belgium, France and Spain. Our results point to important and occupation-specific direct and indirect effects of immigration and offshoring. Both offshoring – particularly services offshoring – and immigration have negative direct employment effects on all occupations, but native clerks and manual workers are affected the most, and native managers/professionals the least. Generally, offshoring exerts a stronger direct negative employment effect than does immigration. Our results also identify an important (labour demand) elasticity-channel of immigration and offshoring and show that some groups of native workers can also actually gain from globalisation through an improvement in their wage-bargaining position. Overall, our results indicate a deterioration in the bargaining power of native manual workers arising from both immigration and offshoring; an improvement in the bargaining position of native craft workers in the case of both immigration and offshoring; and an improvement in the bargaining position of native clerical workers and managers/professionals in the case of offshoring only. Finally, our analysis of the cross-effects of immigration highlights the important role of migrant managers/professionals for the labour demand and demand elasticities (bargaining power) of native clerical workers, craft and manual workers.
Disclaimer
Funding from the Austrian Federal Ministry of Labour, Social Affairs, Health and Consumer Protection is gratefully acknowledged.
Keywords: Offshoring, immigration, labour demand elasticity, bargaining power, occupations
JEL classification: F16, F22, F66
Countries covered: Austria, Belgium, European Union, France, Spain
Research Areas: Labour, Migration and Income Distribution, International Trade, Competitiveness and FDI