wiiw Current Analyses and Forecasts
Poland: Solid but moderate growth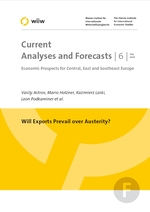 publication_icon
in: Will Exports Prevail over Austerity?
wiiw Current Analyses and Forecasts No. 6, July 2010 , pp. 76-79
In Poland, the current trends related to exchange rates, foreign trade, consumption and gross capital formation will continue.
Growth in 2011 could accelerate still more, were external demand to grow stronger.
Should the zloty strengthen radically, trade - the engine behind much of Poland's growth - may slow down.
That notwithstanding, the major factors governing Poland's extraordinary growth performance in 2009 (healthy financial positions held by households, firms and banks) would help sustain recovery.
Reference to wiiw databases: wiiw Annual Database, wiiw Monthly Database
Countries covered: Visegrad countries, Poland