wiiw Current Analyses and Forecasts
The Czech Republic: Fragile recovery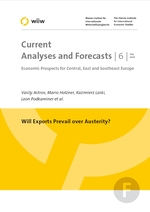 publication_icon
in: Will Exports Prevail over Austerity?
wiiw Current Analyses and Forecasts No. 6, July 2010 , pp. 67-75
A muted recovery in the Czech Republic in 2010 hinges on the performance of foreign demand.
The economy has remarkable buffers that permit the active pursuit of a more expansionary fiscal policy.
Under these conditions, the quest for fiscal consolidation and a certain passiveness on the monetary front affords the economy still greater insulation from fiscal risks and those posed by monetary instability, yet leaves it at the mercy of foreign trade developments.
Growth could accelerate in 2011 as fiscal policy will probably relax.
Reference to wiiw databases: wiiw Annual Database, wiiw Monthly Database
Countries covered: Visegrad countries, Czechia