Another strong quarter for EU-CEE GDP growth

15 May 2019
Most countries have passed their 2017-18 peaks, but Hungary and Romania continue to boom on the back of temporary factors.
By Richard Grieveson
photo: iStock.com/FrankRamspott
Q1 GDP numbers for eight countries in EU-CEE released on May 15th showed a continuation of generally positive trends, in line with our expectations.
Growth is being driven above all by domestic demand. Very tight labour markets are pushing up real wages, while external support for growth has fallen compared with 2017 and the first half of last year.
Although growth for the region as a whole has likely passed its peak, we expect another healthy aggregate outturn in 2019.
Beyond that, growth is likely to slow somewhat, reflecting less supportive external conditions, the emergence of quite significant domestic capacity constraints, and in some cases the fade-out of temporary factors.
Data released by Eurostat on May 15th for eight EU-CEE countries showed strong real GDP growth in Q1 for most of the region. In year-on-year terms, growth strengthened relative to the previous three months in Bulgaria, Lithuania, Hungary, Poland and Romania. Growth was somewhat lower on the same basis in the Czech Republic, Slovakia and Latvia. Data for Croatia, Slovenia and Estonia are not yet available.
The region's two best performers of 2018, Poland and Hungary, both recorded strong growth, of 4.6% and 5.2%, respectively. Meanwhile Romania—where momentum had slowed moderately in 2018—grew by 5.1%.
The data are particularly noteworthy considering that there is now less support for growth from the big markets of Western Europe than was the case in 2017 and the first half of 2018. Although in quarterly terms growth bounced back somewhat in the euro zone and Germany in Q1, in year-on-year terms momentum there is still fairly subdued (see chart below).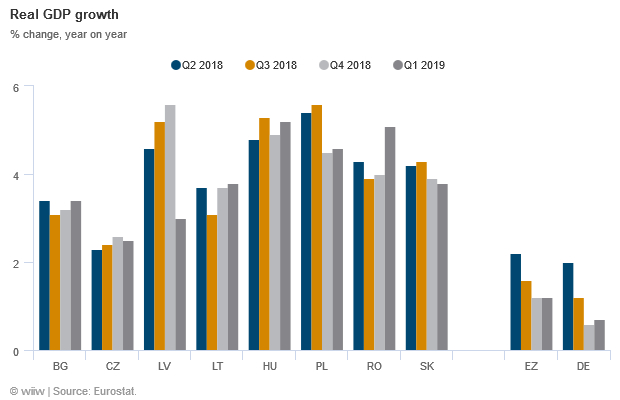 Growth likely to slow, especially from 2020
The data are in line with our expectations that 2019 would be another good year for EU-CEE. Plenty of supportive factors continue to combine to support economic activity in the region. Very tight labour markets and subdued inflation are pushing up real wages. High levels of capacity utilisation should continue to propel investment growth. EU funds inflows are still playing their typically important role in many places.
However, our view remains that the region has passed the peak in terms of growth. For EU-CEE as a whole, we expect growth to fall below 4% this year, after expansions of 4.8% in 2017 and 4.3% last year.
On the aggregate level, two general factors explain this view. First, external conditions are set to be less supportive than was the case during 2017 and the first half of 2018. Although the euro zone bounced back from a weak H2 2018, it is unlikely to get back to 2017 levels of expansion anytime soon. The US-China trade war is also a concern for EU-CEE's generally very open economies.
Second, we expect domestic capacity constraints to become more of an issue in the coming years. Although for now the net result of tight labour markets is positive (via strong wage increases), this may not last. Our research shows that labour reserves in most of EU-CEE are on the way to being exhausted, which is likely to cap growth.
In Hungary and Romania, meanwhile, temporary factors are making a big contribution to current particularly strong momentum. We do not expect this to last indefinitely. In the case of Hungary, we see a particularly strong and front-loaded drawdown of EU funds. For Romania, loose policy has its limits.
For a more detailed overview of our expectations for growth in CESEE, see our Spring Forecast Report here. The full report is only available for wiiw members, but the executive summary, convergence monitor, and analysis of the region's financial sector ten years after the crisis are all free to download.
Related Publications