Green and digital transformation will widen the gap between poor and rich regions in the EU

12 June 2023
The European economy is undergoing a double transformation towards digitalisation and greening. For cities and high-tech regions, this is an opportunity. For others, it could be a burden
image credit: wiiw/Bertelsmann Stiftung
By Ambre Maucorps, Roman Römisch, and Nina Vujanović
For cities and high-tech regions in the EU, digitalisation and greening are an opportunity.
Less developed regions could fall even further behind.
Disparities between regions will widen, putting a strain to EU economic and social cohesion.
Europe's economy is becoming more digital and more green. These two trends emerged some time ago, but have received a massive boost in recent years. Digitalisation has increased as a result of the pandemic as lockdowns, for example, forced companies to digitalise processes almost overnight. Greening has received a boost from the Russian aggression in Ukraine because, in response, EU countries are trying to move away from dependence on Russian oil and gas as quickly as possible and also to become more independent by expanding renewable energy.
But not all regions of Europe are equally well prepared for the double transformation of the economy, as a recently published study by the Vienna Institute for International Economic Studies (wiiw) and the Bertelsmann Stiftung shows. According to the study, big cities and high-tech regions could continue to pull ahead, while rural areas and regions with CO2-intensive industries could lose out. The regions in Germany, Austria, the Netherlands and northern Italy that are already the most prosperous today have the best prospects of experiencing economic growth arising from the changes.
Green challenges
The green transition is a Herculean task for regions where, for example, coal mining is carried out or where other fossil fuels, steel, basic chemicals – such as ethylene and ammonia – or cement are produced. Because these sectors are very energy-intensive, they also face the most profound adjustments. Adjustments that cost a lot of money.
Yet, these investments may not necessarily increase aggregate output. Instead, they mainly ensure that the same level of production is possible with lower greenhouse gas emissions. 'For these industries, therefore, there are considerable costs that - should these environmental investments displace others - will have little or no positive effect on economic growth', the study authors warn.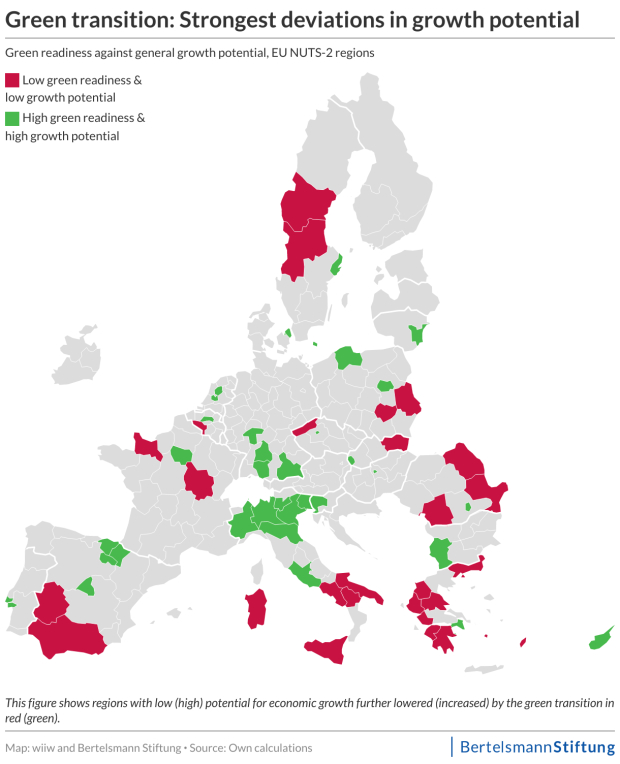 For less developed regions, energy intensive transport and housing sectors may become another problem. Their investment requirements might, in relative terms, be much higher than those of the more developed regions. Therefore, the risk is that there is little money left for  productive investments to increase the less developed regions' output levels. This clouds their growth prospects further and makes an increase in regional disparities in the EU a realistic scenario.
To analyse the regional growth potential in connection with the green transformation, the study's authors therefore measure indicators such as the number of vehicles per capita, energy intensity - i.e. CO2 emissions in relation to GDP - and housing costs measured against household income. Together, they show (in highly simplified terms) how much the green transformation will cost regardless of investments in growth. The result: above all, more urbanised areas are comparatively better off. The authors of the study attest parts of Eastern Europe, Southern Italy, Greece, Southern Spain and Central Sweden - a low 'readiness' for the green transformation.
The digital transformation
The EU regions' digital growth potentials show a similar differentiation. Wealthy and highly urbanised regions such as Northern Italy, Southern Germany and Catalonia are expected to perform better on average than less developed regions.
The growth potential of digitalisation is evident. In Brussels, for example, digital technologies and processes such as artificial intelligence, data analysis, robotics and the Internet of Things are expected to transform business models and create new business opportunities. To utilize these potentials, however, qualified employees and a digital infrastructure, amongst other factors, are needed.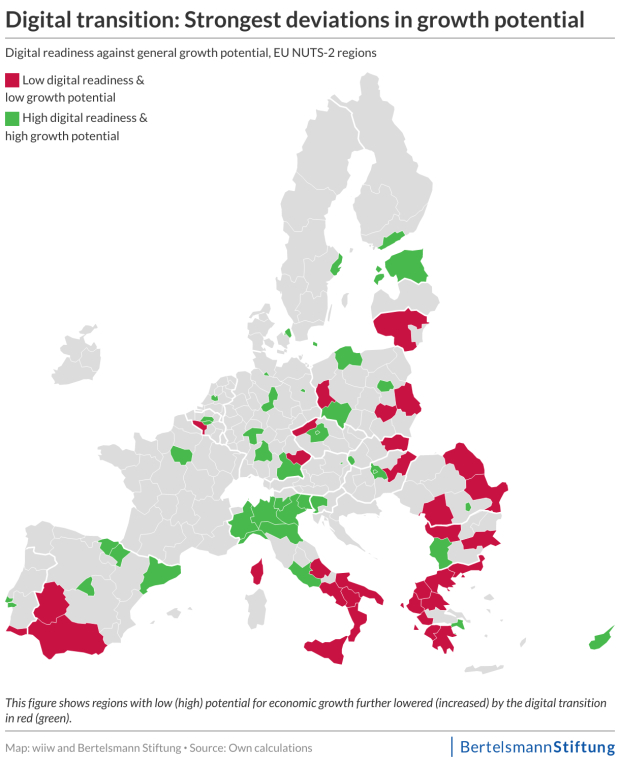 Thus, developing the capacity to benefit from digitalisation may come at a cost, especially in less developed regions. Automation, for example, makes certain jobs redundant, but creates new high-skill jobs. The problem is that the job losses may occur in one region, while the new jobs may be created elsewhere. This underlines, among other things, the importance of lifelong learning and an adaptable labour market for a region's growth through digitalisation.
The gap is widening
The bad news is that the double transformation threatens to widen the gap between the richest and poorest regions in Europe. Already, more prosperous regions show the greatest growth potential and will likely benefit the most. The less prosperous regions, in turn, may fall behind further. Thus, disparities between regions will widen, putting a strain to EU economic and social cohesion.
The authors of the study therefore call for an adapted EU funding policy. Cohesion policy must succeed in finding customised solutions for individual regions in order to ensure more equal opportunities among Europe's regions.