Monthly Report No. 12/2020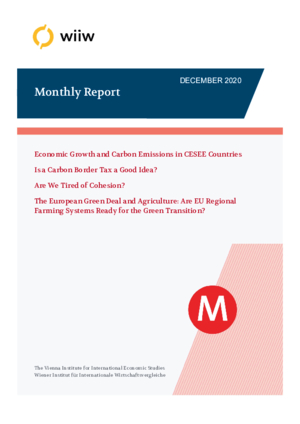 Chart of the month: Economic growth and carbon emissions in CESEE countries 
by Ambre Maucorps
Opinion Corner: Is a carbon border tax a good idea?
by Roman Stöllinger
This contribution argues that a carbon border tax is a promising tool to achieve the goals of the European Green Deal. Its implementation would enable the EU to earn a 'triple dividend' consisting of support for its ecological transformation, the mitigation of carbon leakage, and the provision of significant new funds for the EU budget.
 
Are we tired of cohesion? 
by Roman Römisch
Smaller EU transfers and low investment rates are dampening growth expectations in the EU's less developed regions. As a consequence, we might soon see the end of the 20-year-long convergence process.
 
The European Green Deal and agriculture: are EU regional farming systems ready for the green transition?
by Ambre Maucorps
The European Green Deal calls on the farming sector to become more carbon efficient and environmentally friendly. Even though the majority of EU countries have reduced their greenhouse gas emissions from agriculture over the past three decades, only a few regions have a proper sustainability-oriented agriculture. The green transition is expected to be particularly problematic for the farming systems of Eastern European regions.
Monthly and quarterly statistics for Central, East and Southeast Europe
Reference to wiiw databases: wiiw Annual Database, wiiw Monthly Database
Keywords: economic growth, carbon emissions, EU emissions trading system, carbon leakage, carbon border tax, EU cohesion policy, investment rates, economic convergence, European Green Deal, regional farming systems, Farm to Fork Strategy
Countries covered: CESEE, EU-CEE, European Union
Research Areas: International Trade, Competitiveness and FDI, Regional Development, Sectoral studies