A 'European Silk Road'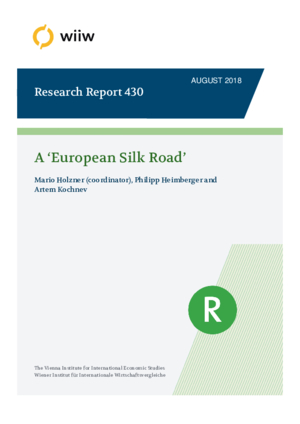 The German version can be found here.
In this study we argue for a 'Big Push' in infrastructure investments in greater Europe. We propose the building of a European Silk Road, which connects the industrial centres in the west with the populous, but less developed regions in the east of the continent and thereby is meant to generate more growth and employment in the short term as well as in the medium and long term.
After its completion, the European Silk Road would extend overland around 11,000 kilometres on a northern route from Lisbon to Uralsk on the Russian-Kazakh border and on a southern route from Milan to Volgograd and Baku. Central parts are the route from Lyon to Moscow in the north and from Milan to Constanţa in the south. The southern route would link Central Europe with the Black Sea area and the Caspian Sea littoral states.
A state-of-the-art motorway and high-speed railway line with a string of logistics centres, seaports, river ports and airports shall set new European standards, among others in e-mobility. The full extension would constitute around EUR 1,000 billion or approximately 8% of the gross domestic product of the countries situated along its two routes. The costs relative to the EU's economic output amount to about 7%.
According to a conservative estimate, the European Silk Road could lead to an economic growth of 3.5% on average and an increase in employment of around 2 million along its routes in the course of an investment period of 10 years. Under favourable circumstances and at continued low interest rates, an employment creation of over 7 million can be expected in greater Europe.
The improved infrastructure of the key route could yield significant time savings of over 8% in road transport on the northern route into the central region of Russia alone. On average this would save approximately 2.5 hours, for instance from Vienna. Thus the countries along the northern route would be able to increase their exports to Russia by more than 11%. This would imply additional exports of over EUR 12.5 billion.
The Austrian export industry would particularly benefit from these infrastructural measures. Austria's exports to Russia would rise by over 14%. This corresponds to about EUR 330 million. The construction projects would create 34,000 jobs in Austria. Under favourable conditions, up to 121,000 new jobs could be created in Austria.
Summary
A 'European Silk Road'
The study concludes that Europe should respond to China's New Silk Road initiative with a coherent infrastructure network and transport strategy of its own to leverage its economic potential. It should not rely on China's Belt and Road Initiative (BRI) to achieve this, but invest itself to ensure that it suits European priorities. Nevertheless, a 'European Silk Road' can be seen as complementary to China's efforts. The study finds that the development of a European Silk Road could create 2-7 million new jobs and could increase GDP on average by 3.5% in Wider Europe over a ten-year period. Eastern Europe in particular needs an upgrading of its transport infrastructure. If this is achieved, the boost to incomes and living standards would be particularly significant in that part of the continent, as a 'big push' in transport infrastructure investment has the potential to industrialise broad sectors of the economy.
Reference to wiiw databases: wiiw Annual Database
Keywords: infrastructure, transport, Europe, China, Silk Road, growth, industrialisation, international trade
JEL classification: H54, O18, R41, R42, L92
Countries covered: Asia, Wider Europe
Research Areas: Macroeconomic Analysis and Policy, International Trade, Competitiveness and FDI