[CANCELLED]: Sino-European Economic Co-opetition
30 March 2020 4:00 pm CEST
Alexander G. Welzl, Lecturer, University of Applied Sciences Technikum Wien
Venue
wiiw, Rahlgasse 3, 1060 Vienna, lecture hall (entrance from the ground floor)
Description
Challenges for Global Industrial Innovation Value Chains in Times of Digital Transformation and Post-fossil Economies
Industry 4.0 and Internet of Things (IoT) have emerged as driving forces for fundamental change in the world of industry and economies. Mainly coined by Western researchers, corporations and governments and meanwhile spread throughout the industrialized and emerging economies of the world these concepts call for a novel evolutionary step in organizing human-machine interaction in the 21st century. At the same time digital transformation has pervaded the private sphere in Western societies as well as China to create a citizen-corporate continuum. Challenging the sovereign governance systems these developments bring to the fore novel governance approaches in Western-style democratic open market economies as well as in the digital-authoritarian hyper-capitalism with Chinese characteristics. Against this backdrop some even argue the mercantilistic Chinese economy weakens Western innovation performance and National Innovation Systems in Europe and the US. Taking into account converging fields of technologies and research in the context of digital transformation (AI, big data, robotics, telecommunication, quantum information technology) this talk takes stock of the entanglement of the Chinese and European economies. Exemplifying the delicate mutual economic dependence and some of the contradictions to be solved in the light of global industrial (innovation) value chains in the coming time the case of Huawei and 5G implementation as well as the quest for quantum supremacy in search of a new balance between the major innovation economies (Europe, US, China) are addressed in some detail.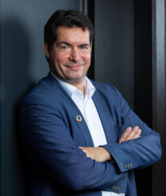 With a professional and scientific background in economic research, financial markets, innovation and entrepreneurship as well as sustainability Alexander G. Welzl started to teach the first university course in Europe focusing on the National Innovation System of PR China in winter term 2018 at the University of Applied Sciences Technikum Wien (UASTW, Austria). Alex has been invited as guest researcher and visiting fellow at European and Chinese universities (e.g. Humboldt Universitaet zu Berlin, Zhejiang University). Currently he is preparing for his visiting fellowships at TUS College of Digit (Tsinghua University Science Park Holding) and School of Economics and Management at Liuzhou. Alexander is a frequently invited speaker contributing to conferences, expert workshops and seminars amongst others at and with United Nations, OECD, World Bank, European Commission, Chinese Academy of Social Sciences (Beijing/China), US National Academy of Sciences (Washington DC/USA), Harvard University (Boston/USA), Peking University (Beijing/China), University of Oxford (Oxford/UK), University of International Business and Economics (Beijing/China), European University Institute (Florence/Italy), WIFO (Vienna/Austria) , ADVANTAGE AUSTRIA etc. In 2018 Alexander founded the boutique economics and policy advisory firm 'METROPOLITAN HORIZONS' headquartered in Vienna/Austria.
Powerpoint presentation, as far as available, will be posted on this page after the seminar.
Keywords: Economic co-opetition, Sino-European relationship, digital transformation, industrial innovation, National Innovation Systems, global innovation value chains