Die Qualität der Daseinsvorsorge in Österreichs Städten und deren Auswirkungen auf die Lebensumstände im Europavergleich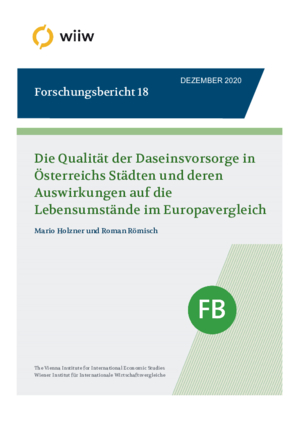 publication_icon
Mario Holzner and Roman Römisch
wiiw Research Report in German language No. 18, December 2020
54 pages including 4 Tables and 48 Figures
This publication is available in German language only.
For a brief English summary see further below.
Die Studie liefert eine evidenzbasierte Analyse der Qualität der Daseinsvorsorge und ihrer Auswirkungen auf die Lebensumstände in Österreichs Städten. Dabei umfasst sie folgende Bereiche: a) Ausbildung und Erziehung, b) Gesundheit, c) Wohnen, d) öffentlicher Verkehr, e) die Ausgabenstruktur der Haushalte und f) die persönliche Einschätzung der Lebensumstände durch die Einwohner repräsentativer Städte. Diese Bereiche werden entweder im europäischen Vergleich oder im Vergleich zu Bayern dargestellt. Die Ergebnisse zeigen, dass Österreichs Städte im europäischen Vergleich attraktive Orte sind zu leben und arbeiten. Sie bieten hochwertige Jobs und wichtige Leistungen der Daseinsvorsorge in den Bereichen Bildung, Gesundheit, Wohnen und öffentlicher Verkehr - auch für ihre Umlandgemeinden - an. Dadurch genießen die BewohnerInnen der österreichischen Städte im EU-Vergleich einen sehr hohen Lebensstandard und ein hohes Niveau an Lebensqualität. Ihre Kosten für Wasser, Energie und insbesondere Wohnen sind im Vergleich zu den Gesamtausgaben gering und damit bleiben deutlich mehr Mittel für Freizeit und Kultur übrig. Zum Vergleich, die Freizeit- und Kulturausgaben der BewohnerInnen Österreichs Städte sind, hinter Schweden, die zweithöchsten in der EU.
English Summary
The quality of services of general interest in Austria's cities and their impact on living conditions in a European comparison
The study provides an evidence-based analysis of the quality of services of general interest and their impact on living conditions in Austrian cities. It covers the following areas: a) education and upbringing, b) health, c) housing, d) public transport, e) the expenditure structure of households and f) the personal assessment of living conditions by the inhabitants of representative cities. These areas are presented either in European comparison or in comparison to Bavaria. The results show that Austria's cities are attractive places to live and work. They offer high-quality jobs and important services of general interest in the areas of education, health, housing and public transport - also for their surrounding communities. As a result, the inhabitants of Austrian cities enjoy a very high standard of living and a high level of quality of life compared to other EU countries. Their costs for water, energy and especially housing are low compared to their total expenditure, leaving significantly more funds for leisure and culture. For comparison, the leisure and cultural expenditure of the inhabitants of Austrian cities is the second highest in the EU, behind Sweden.
Keywords: Österreich, Städte, Lebensqualität, Wohnen, Gesundheit, Ausbildung, Verkehr, Lebensstandard, Wohlfahrtssysteme, internationaler Vergleich, Austria, cities, quality of life, living, health, education, transport, standard of living, welfare systems, international comparison
JEL classification: R10, R20, R50
Countries covered: Austria, Germany
Research Areas: Regional Development