Evaluating the implementation of the DCFTAs between the EU, Georgia and Moldova
24 November 2022 3:00 pm CET
Tinatin Akhvlediani, Centre for European Policy Studies (CEPS)
In cooperation with:



Research Centre International Economics (FIW)
Venue
This is an online event via Zoom. Please register using the link below.
Description
This presentation is based on a paper co-authored with Steven Blockmans, Julie Bryhn, Stanislav Ghiletchi, Lali Gogoberidze, Daniel Gros, Weinian Hu, Diego Iribarren, Tamara Kovziridze, Irina Kustova, Mihai Mogildea, Liliana Palihovici, Iulian Rusu and Farzaneh Shamsfakhr.
Abstract:
Since 2014, the European Union (EU) has in place a Deep and Comprehensive Free Trade Area (DCFTAs) with Georgia and Moldova as part of the Association Agreement. The European Commission has commissioned a consortium led by the Centre for European Policy Studies (CEPS) to undertake an evaluation of the implementation and impact of the DCFTAs. The evaluation will be carried out between February 2021 and April 2022 and will analyse the economic, social and environmental, and human rights (including labour rights) effects which the DCFTAs have had since their application. In terms of the evaluation criteria, as requested by the Terms of Reference (ToR), the study will assess the effectiveness, impact, efficiency, coherence and relevance of the DCFTAs.
The presentation, when available, will be posted after the event.
Registration link for online participation:
https://us06web.zoom.us/webinar/register/WN_4mpWvxd6SLiAmzVWe0ZVow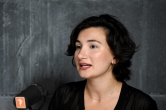 Tinatin Akhvlediani is a Research Fellow and acting Head of Financial Markets and Institutions Unit at the Centre for European Policy Studies (CEPS), Brussels based Think Tank. With more than 8 years of professional experience, Tinatin specializes on international economics, and the EU's trade and neighbourhood policies, with a specific focus on the Eastern Partnership.  Her research includes academic papers published in scientific journals, book chapters as well as policy studies delivered for the European Parliament, European Commission, European Committee of the Regions, and several international organisations. The research outcomes of her academic and policy studies have been presented widely, in Europe as well as in Canada, United States, China, Australia, Qatar and Thailand. Tinatin is a frequent commentator at major media outlets, including BBC, Euronews, Bloomberg, Deutsche Welle, Voice of America and the main TV channels in Georgia. In 2020, Tinatin was listed among 30 Under 30 in the category of science by Forbes Georgia. Throughout her research, Tinatin has conducted research visits at Indiana University in the United States, Vienna Institute of International Economic Studies in Austria and Shanghai University in China.  She has also been a visiting scholar and lecturer at the University of Warsaw for seven years and is currently affiliated with several research centers based in Tbilisi. Besides her research activities at CEPS, she is also leading CEPS Young Thinkers Initiative – funded by Open Society Foundation and the US Mission to the EU – "Over to Youth", with an objective to mainstream young voices at the high-level policy debates. Tinatin holds a PhD degree in Economics from the University of Warsaw, Master's degrees in International Economics from the University of Warsaw and European Economic Studies from the College of Europe and a Bachelor's degree in Economics from Tbilisi State University.
Related literature:
https://policy.trade.ec.europa.eu/analysis-and-assessment/ex-post-evaluations_en 
Keywords: Trade Agreements, DCFTAs, European Union, EU Trade Policy
JEL classification: JEL codes: F14, F15, O52, N74
Related Links
Related Downloads