Die Lohnentwicklung in den mittel- und osteuropäischen Mitgliedsländern der EU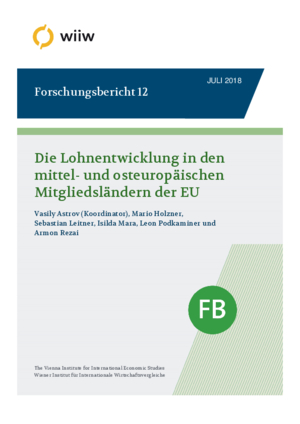 This publication is available in German language only.
For a brief English summary see further below.
Die Arbeitsmärkte in den mittel- und osteuropäischen Mitgliedsländern der EU (EU-MOE-8) haben sich seit der globalen Wirtschaftskrise von 2008-2009 deutlich verbessert. Die Arbeitslosenraten gingen kontinuierlich zurück, in erster Linie aufgrund rückläufiger demographischer Entwicklungen und massiver Auswanderung Richtung Westen, was eine Schrumpfung der Bevölkerung im erwerbsfähigen Alter zur Folge hatte. Trotzdem war das Lohnwachstum in den EU-MOE-8 noch bis vor kurzem eher verhalten, was dazu führte, dass die Lohnquote generell stabil blieb. Die sogenannte Phillips-Kurve, die einen negativen Zusammenhang zwischen Arbeitslosigkeit und Lohnwachstum darstellt, gilt also in diesem Zeitraum für die meisten EU-MOE-8 nicht – anders als etwa in Österreich oder Deutschland. Der Hauptgrund dafür ist die voranschreitende Flexibilisierung und Liberalisierung der Arbeitsmärkte der EU-MOE-Länder in den Jahren seit der Wirtschaftskrise. Vor allem die Lohnverhandlungsmechanismen wurden dezentralisiert, und der Grad der kollektivvertraglichen Abdeckung ging, zum Teil dramatisch, zurück. Dies hatte tendenziell eine Verschlechterung der Verhandlungsposition der ArbeitnehmerInnen zur Folge, wodurch die positiven Effekte der allgemeinen Verbesserung der Arbeitsmarktlage konterkariert wurden.
English Summary
Wage developments in the Central and East European Member States of the EU
Labour markets in the Central and East European Member States of the EU (EU-CEE-8) have improved significantly since the global economic crisis of 2008-2009. Unemployment rates declined steadily, primarily due to adverse demographic trends and massive outward migration to the West, which resulted in a decline in the working-age population. Nevertheless, until recently wage growth in EU-CEE-8 was rather restrained, resulting in generally stable wage shares. The so-called Phillips curve, which represents a negative correlation between unemployment and wage growth, did not hold for most EU-CEE-8 during this period – unlike, for example, in Austria or Germany. The main reason for this has been progressive flexibilisation and liberalisation of the labour markets of EU-CEE countries in the years since the economic crisis. In particular, wage negotiation mechanisms have been decentralised and the degree of coverage by collective bargaining agreements has declined, in some cases dramatically. This tended to weaken the negotiating position of employees, thereby counteracting the positive effects of the general improvement in the labour market situation.
Reference to wiiw databases: wiiw Annual Database
Keywords: Löhne, Lohnquote, demographische Trends, Migration, Phillips-Kurve, Lohnfindungsmechanismen, wages, wage share, demographic trends, migration, Phillips curve, wage-setting mechanisms
JEL classification: J11, J31, J4, J50
Countries covered: Bulgaria, Croatia, Czechia, Hungary, Poland, Romania, Slovakia, Slovenia
Research Areas: Labour, Migration and Income Distribution
Related News
Related Events