Riding the Global Growth Wave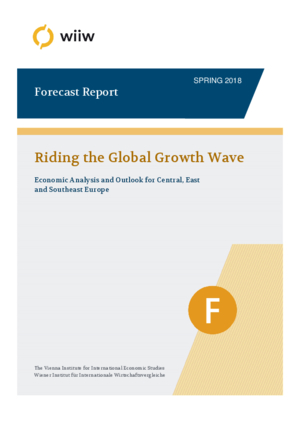 publication_icon
Vasily Astrov, Rumen Dobrinsky, Vladimir Gligorov, Richard Grieveson, Doris Hanzl-Weiss, Peter Havlik, Gabor Hunya, Sebastian Leitner, Isilda Mara, Olga Pindyuk, Leon Podkaminer, Sandor Richter, Robert Stehrer, Roman Stöllinger and Hermine Vidovic
wiiw Forecast Report No. Spring 2018, March 2018
193 pages including 36 Tables and 64 Figures
| No. | Title | Author | |
| --- | --- | --- | --- |
| 1 | ALBANIA: High expectations for the commencement of EU membership negotiations | Isilda Mara | Free Download |
| 2 | BELARUS: Improving external environment supports modest growth | Rumen Dobrinsky | Free Download |
| 3 | BOSNIA AND HERZEGOVINA: Positive external conditions driving growth | Richard Grieveson | Free Download |
| 4 | BULGARIA: Growth continues but may be close to the limits | Rumen Dobrinsky | Free Download |
| 5 | CROATIA: Moderate growth ahead | Hermine Vidovic | Free Download |
| 6 | CZECH REPUBLIC: Broad-based but quite moderate growth | Leon Podkaminer | Free Download |
| 7 | ESTONIA: Investment keeps growth in high gear | Sebastian Leitner | Free Download |
| 8 | HUNGARY: EU co-financed investment boom, surging wages, shrinking trade surplus | Sandor Richter | Free Download |
| 9 | KAZAKHSTAN: Oil sector growth benefits few | Olga Pindyuk | Free Download |
| 10 | KOSOVO: Growth at healthy levels, helped by boom in Western Europe | Richard Grieveson | Free Download |
| 11 | LATVIA: Riding high on the investment cycle | Sebastian Leitner | Free Download |
| 12 | LITHUANIA: EU funds foster growth at full potential | Sebastian Leitner | Free Download |
| 13 | MACEDONIA: Political crisis and recovery | Vladimir Gligorov | Free Download |
| 14 | MONTENEGRO: Tourism to the rescue | Vladimir Gligorov | Free Download |
| 15 | POLAND: Steady consumption - driven expansion | Leon Podkaminer | Free Download |
| 16 | ROMANIA: Down from the peak | Gabor Hunya | Free Download |
| 17 | RUSSIAN FEDERATION: Falling behind peers on meagre growth | Peter Havlik | Free Download |
| 18 | SERBIA: Slow recovery continues | Vladimir Gligorov | Free Download |
| 19 | SLOVAKIA: Future growth constrained by labour shortages | Doris Hanzl-Weiss | Free Download |
| 20 | SLOVENIA: Solid growth set to continue | Hermine Vidovic | Free Download |
| 21 | TURKEY: Growth will remain strong but external risks are significant | Richard Grieveson | Free Download |
| 22 | UKRAINE: Reforms stall ahead of elections | Vasily Astrov | Free Download |
Aggregate real GDP growth in CESEE is at its strongest level for six years, and in 2017 all economies in the region expanded for the first time in a decade.
External conditions are highly supportive of growth in CESEE. All the big engines of the global economy – the US, China and the eurozone – are expanding strongly together for the first time since 2010. The coordinated global upswing has further to run, and we expect CESEE economies to continue to benefit in the coming years.
EU-CEE and Turkey will grow strongly during our forecast period, while activity in the Western Balkans will pick up from recent years. The CIS and Ukraine will remain the regional laggards, but will continue to recover slowly.
We do not think that any economy in the region is 'overheating', although there are growing risks in Romania and Turkey. We expect inflation to remain very subdued in most of CESEE during the forecast period. In parts of CESEE, large-scale Ukrainian migration is helping to relieve labour market tightness.
Wage increases in most of CESEE have been strong, but are concentrated largely in the manufacturing sector, and have been more than offset by rising labour productivity and non-price competitiveness. External competitiveness is not in danger.
Across the region, investment will rise faster than headline real GDP growth in 2018-2020, driven by low interest rates, high capacity utilisation, stronger confidence, EU funds and still low base effects.
Most countries have seen their export/GDP shares rise in the past decade, which increases their ability to take advantage of the current upswing. Many are moving up the value chain.
Banking sectors in CESEE are generally on a much stronger footing than a few years ago. However, the old pre-crisis, highly leveraged model reliant on foreign inflows is mostly a thing of the past, meaning that credit growth will be relatively low by historical standards in the coming years.
Downside risks to regional growth emanating from local and global factors are significant. In particular, we are worried about a trade war, the exit of major central banks from extraordinarily loose monetary policy, pockets of high corporate and government leverage, east/west EU splits, the undermining of institutional independence in some countries, geopolitical tensions, the Ukraine crisis, and potential spill-overs from a renewed outbreak of volatility in the eurozone, or a Chinese debt crisis.
Convergence with Western European income levels will proceed in the long term. However, there is a risk that specialisation in parts of the supply chain where little value is created will condemn the region to a permanent 'semi-periphery trap'.
Reference to wiiw databases: wiiw Annual Database, wiiw Monthly Database
Keywords: CESEE, economic forecast, Europe, Central and Eastern Europe, Southeast Europe, Western Balkans, new EU Member States, CIS, Russia, Ukraine, Poland, Romania, Czech Republic, Hungary, Turkey, convergence, overheating, external risks, EU funds, investment, exports, tourism, unemployment, employment, wage growth, unit labour costs, migration, inflation, competitiveness, external debt, public debt, semi-periphery trap, demographics
JEL classification: E20, F34, G12, O47, O52, O57, P24, P27, P33, P52
Countries covered: Albania, Belarus, Bosnia and Herzegovina, Bulgaria, Central and East Europe, CIS, Croatia, Czechia, Estonia, European Union, Hungary, Kazakhstan, Kosovo, Latvia, Lithuania, North Macedonia, Montenegro, New EU Member States, Poland, Romania, Russia, Serbia, Slovakia, Slovenia, Southeast Europe, Turkey, Ukraine
Research Areas: Macroeconomic Analysis and Policy, Labour, Migration and Income Distribution, International Trade, Competitiveness and FDI, Regional Development
ISBN-13: 978-3-85209-059-7