Bevölkerungs- und Wirtschaftsentwicklung in den mittel- und osteuropäischen Ländern (MOEL)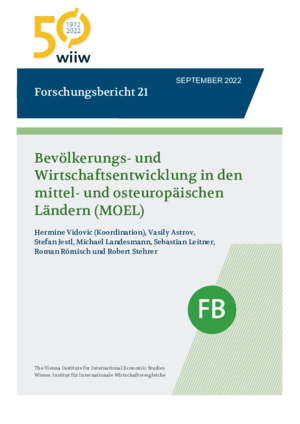 Bevölkerungs- und Wirtschaftsentwicklung in den mittel- und osteuropäischen Ländern (MOEL)
This publication is available in German language only.
For a brief English summary see further below.
Die Zuwanderung aus den mittel- und osteuropäischen EU-Ländern (MOEL) hat maßgeblich zum Bevölkerungswachstum Österreichs und Wiens beigetragen. Die Studie liefert eine Einschätzung des aktuellen und zukünftigen Migrationspotenzials nach Österreich und Wien aus den MOEL und drei Westbalkanländern Bosnien-Herzegowina, Nordmazedonien und Serbien. Nach einem coronabedingten Einbruch im Jahr 2020 konnten die MOEL und die Westbalkanländer bereits 2021 wieder einen zum Teil kräftigen Wirtschaftsaufschwung verzeichnen, was sich auch in einer günstigen Arbeitsmarktsituation widerspiegelte, bzw. den Arbeitskräfte- und Fachkräftemangel verstärkte. Angesichts des Krieges in der Ukraine sind die Prognosen für 2022 und die Folgejahre mit einem hohen Risiko behaftet. Mittelfristig kann jedoch eine Abschwächung der bestehenden Migrationsströme aus den MOEL und den drei Westbalkanländern nach Österreich und Wien erwartet werden. Abgesehen von der positiven Entwicklung der Arbeitsmärkte, weisen die demographischen Szenarien auf ein teilweise starkes Schrumpfen der Gesamtbevölkerung und den damit einhergehenden Rückgang der Erwerbsbevölkerung in den untersuchten Regionen hin. Ferner ist im Verlauf der nächsten Jahre keine weitere Öffnung des österreichischen Arbeitsmarktes zu erwarten. Eine Verschiebung der regionalen Struktur der Migrationsströme in Hinblick auf die österreichischen Bundesländer ist aus heutiger Sicht unwahrscheinlich.
Population trends and economic development in Central and East European countries
Immigration from Central and Eastern European EU countries (CEEC) has contributed significantly to the population growth of Austria and Vienna. The study provides an assessment of the current and future migration potential to Austria and Vienna from the CEECs and three Western Balkan countries - Bosnia and Herzegovina, Northern Macedonia and Serbia. After a corona-related slump in 2020, the CEECs and the Western Balkan countries were able to record a (strong) economic upswing again as early as 2021, which was also reflected in a favourable labour market outcome and increased labour and skilled labour shortages. In view of the war in Ukraine, forecasts for 2022 and subsequent years are subject to a high degree of risk. In the medium term, however, the existing migration flows from CEE and the three Western Balkan countries to Austria and Vienna can be expected to weaken. Apart from the positive labour market developments, the demographic scenarios point to a partly strong shrinkage of the total population and the accompanying decline in the labour force in the countries under consideration. Furthermore, no further opening of the Austrian labour market is expected in the course of the next few years. From today's perspective, a shift in the regional structure of migration flows with regard to the Austrian federal provinces is unlikely.
Reference to wiiw databases: wiiw Annual Database
Keywords: Demographie, regionale Entwicklung, Arbeitsmarkt, Migration, demography, regional development, labour market, migration
JEL classification: J11, J31, J61, J64, O50
Countries covered: Austria, Bosnia and Herzegovina, New EU Member States, North Macedonia, Serbia
Research Areas: Macroeconomic Analysis and Policy, Labour, Migration and Income Distribution, Regional Development