Wage Developments in the Western Balkans, Moldova and Ukraine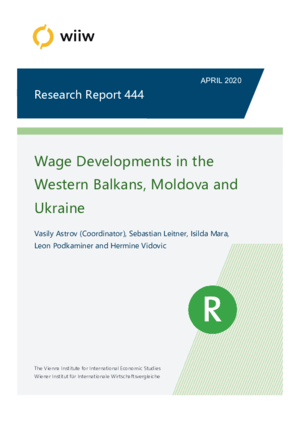 In recent years, the general economic recovery has finally fed through to a significant increase in real wages in the Western Balkan countries, Moldova and Ukraine. Nevertheless, wage shares have barely picked up, and have even declined slightly in several places. Only in Kosovo has significant convergence with the Austrian wage level been registered. The improvement in labour market conditions in the countries covered has had only a moderately positive effect on wage developments. Despite recent declines, many countries continue to record double-digit unemployment rates, meaning that the bargaining power of employees has improved only slightly. The gradual decentralisation of wage-setting mechanisms has also slowed wage growth. In general, collective-bargaining mechanisms are much less developed than, for example, in Austria. Their scope is limited by the low share of employees in total (formal) employment. High unemployment and large wage gaps, especially in comparison with Western Europe, have led to considerable outward migration and population decline in many of these countries. This trend is expected to continue in the future. In the long run, this will result in the loss of an important share of the human capital of these countries, which might affect their prospects for convergence with Western European levels, including in terms of wages.
Disclaimer:
The study was commissioned by the Arbeiterkammer Wien. 
This is a translation of the German version that was published as wiiw Research Report in German language No. 15 in September 2019.
Keywords: Wages, wage share, demographic trends, migration, Phillips curve, wage-setting mechanisms
JEL classification: J11, J31, J4, J50
Countries covered: Moldova, Ukraine, Western Balkans
Research Areas: Labour, Migration and Income Distribution