Die Lohnentwicklung in den Westbalkanländern, Moldau und der Ukraine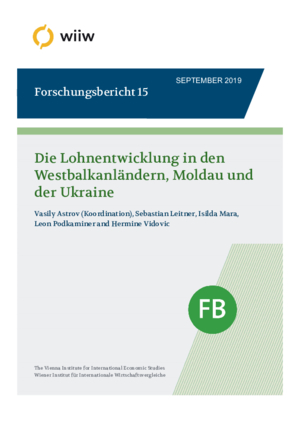 This publication is available in German language only.
For a brief English summary see further below.
Erst in den letzten Jahren kam es im Zuge der allgemeinen Erholung der Wirtschaft zu einem deutlichen Anstieg der Reallöhne in den Westbalkanländern, Moldau und der Ukraine. Trotzdem sind die Lohnquoten kaum gestiegen bzw. zum Teil sogar leicht gesunken. Nur im Kosovo ist es zu einer deutlichen Annäherung an das österreichische Lohnniveau gekommen. Die Verbesserung der Arbeitsmarktbedingungen hatte einen nur mäßig positiven Effekt auf die Lohnentwicklung. Die Arbeitslosenquoten bleiben – trotz jüngster Rückgänge – oft im zweistelligen Bereich, so dass sich die Verhandlungsmacht der Arbeitnehmer nur geringfügig verbessert hat. Auch die schrittweise Dezentralisierung der Lohnsetzungsmechanismen hat das Lohnwachstum gebremst. Generell sind kollektivvertragliche Mechanismen in den Ländern der Region wesentlich schwächer entwickelt als etwa in Österreich. Deren Reichweite wird durch den geringen Anteil der unselbständig Beschäftigten an der (formellen) Gesamtbeschäftigung begrenzt. Hohe Arbeitslosigkeit und ein großes Lohngefälle, vor allem im Vergleich mit Westeuropa, hatten eine beträchtliche Abwanderung und einen Rückgang der Bevölkerung vieler dieser Länder zur Folge. Mit der Fortsetzung dieses Trends wird auch für die Zukunft gerechnet. Langfristig gesehen geht dadurch ein wichtiger Teil von Humankapital verloren, was die Aussichten auf eine Annäherung an das westeuropäische Niveau – unter anderem in puncto Löhne – beeinträchtigen dürfte.
English Summary
Wage developments in the West Balkans, Moldova and Ukraine
In recent years, the general economic recovery has finally fed through to a significant increase in real wages in the Western Balkan countries, Moldova and Ukraine. Nevertheless, wage shares have barely picked up, and even declined slightly in several places. Significant convergence towards the Austrian wage level has only been registered in Kosovo. The improvement in labour market conditions in the countries covered has had only a moderately positive effect on wage developments. Despite recent declines, many countries continue to record double-digit unemployment rates, meaning that the bargaining power of employees has improved only slightly. The gradual decentralisation of wage-setting mechanisms has also slowed wage growth. In general, collective bargaining mechanisms are much less developed than, for example, in Austria. Their scope is limited by the low share of employees in total (formal) employment. High unemployment and large wage gaps, especially in comparison with Western Europe, have led to considerable outward migration and population decline in many of these countries. This trend is expected to continue in the future. In the long run, this will result in the loss of an important share of the human capital of these countries, which might affect their prospects for convergence towards Western European levels, including in wages.
Keywords: Löhne, Lohnquote, demographische Trends, Migration, Phillips-Kurve, Lohnfindungsmechanismen, wages, wage share, demographic trends, migration, Phillips curve, wage-setting
JEL classification: J11, J31, J4, J50
Countries covered: Moldova, Ukraine, Western Balkans, Albania, Bosnia and Herzegovina, Kosovo, Montenegro, North Macedonia, Serbia
Research Areas: Labour, Migration and Income Distribution