Monthly Report No. 7-8/2021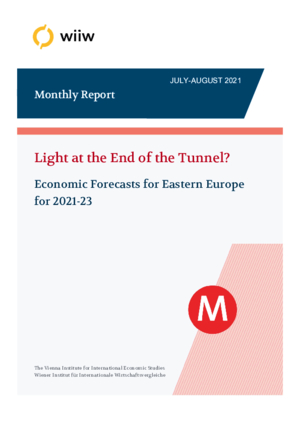 publication_icon
Vasily Astrov, Alexandra Bykova, Rumen Dobrinsky, Selena Duraković, Richard Grieveson, Doris Hanzl-Weiss, Gabor Hunya, Branimir Jovanović, Niko Korpar, Sebastian Leitner, Isilda Mara, Olga Pindyuk, Leon Podkaminer, Sandor Richter, Bernd Christoph Ströhm and Maryna Tverdostup
wiiw Monthly Report No. 7-8, July-August 2021
42 pages including 4 Tables and 15 Figures
Light at the End of the Tunnel?
Economic Forecasts for Eastern Europe for 2021-23
CESEE's economic results from Q1 2021 were better than expected, despite a severe wave of the pandemic. This suggests that the economies are learning to live with COVID-19. The pandemic is far from over, and a new wave is likely to strike in autumn, but we do not expect it to wreak such economic damage as the previous waves. We are thus upgrading our GDP growth forecasts for 2021 for 20 of the 23 CESEE economies, and expect the region as a whole to grow by 4.2% on a weighted average basis, more than compensating for the setback of last year. Inflation is back, caused primarily by higher global energy and food prices. Although we regard it as largely transitory, six CESEE countries have already tightened their monetary policy in response, and several more are likely to follow suit.
Regional Overview by Branimir Jovanovic 
Country updates:
Albania: Public investment and tourism will boost growth further by Isilda Mara
Belarus: Further reorientation towards Russia by Rumen Dobrinsky
Bosnia and Herzegovina: Recovery under way, but concern over sluggish vaccination campaign by Selena Duraković
Bulgaria: Recovery amidst political uncertainty by Rumen Dobrinsky
Croatia: Economic rebound in sight by Bernd Christoph Ströhm
Czechia: Recovery delayed by Leon Podkaminer
Estonia: Sprinting to recovery by Maryna Tverdostup
Hungary: Change in monetary policy with rising inflation by Sándor Richter
Kazakhstan: Recovery gains momentum, but could falter in the event of pandemic resurgence by Alexandra Bykova
Kosovo: Outlook for growth improves, with robust domestic and external demand by Isilda Mara
Latvia: Public finances providing strong support for the recovery by Sebastian Leitner
Lithuania: Strong revival in growth following last year's mild recession by Sebastian Leitner
Moldova: Rapid recovery and the chance to find an anchor with the EU by Gábor Hunya
Montenegro: Struggling to recover properly from last year's crash by Bernd Christoph Ströhm
North Macedonia: Government fails to support the economy, yet again by Branimir Jovanović
Poland: Recovery under way by Leon Podkaminer
Romania: Rapid post-COVID recovery amid large imbalances by Gábor Hunya
Russia: Delta variant looming over economic recovery by Vasily Astrov
Serbia: Continuing to impress by Branimir Jovanović
Slovakia: Shortage of computer chips could dampen prospects by Doris Hanzl-Weiss
Slovenia: The upcoming presidency of the EU Council places internal politics in the spotlight by Niko Korpar
Turkey: Performing well again in 2021 by Richard Grieveson
Ukraine: Recovery driven by a spending spree by Olga Pindyuk
Reference to wiiw databases: wiiw Annual Database, wiiw Monthly Database
Keywords: CESEE, economic forecast, Central and Eastern Europe, Southeast Europe, Western Balkans, EU, euro area, CIS, coronavirus, COVID-19, pandemic, restrictions, lockdowns, Stringency Index, EU Recovery and Resilience Facility, private consumption, public consumption, credit, investment, exports, FDI, labour markets, unemployment, inflation, exchange rates, monetary policy, fiscal policy, near-shoring
JEL classification: E20, E21, E22, E24, E32, E5, E62, F21, F31, H60, I18, J20, J30, O47, O52, O57, P24, P27, P33, P52
Countries covered: Albania, Belarus, Bosnia and Herzegovina, Bulgaria, CESEE, Croatia, Czechia, Estonia, European Union, Hungary, Kazakhstan, Kosovo, Latvia, Lithuania, Moldova, Montenegro, New EU Member States, North Macedonia, Poland, Romania, Russia, Serbia, Slovakia, Slovenia, Turkey, Ukraine, EU-CEE, SEE, CIS
Research Areas: Macroeconomic Analysis and Policy