Monthly Report No. 7-8/2022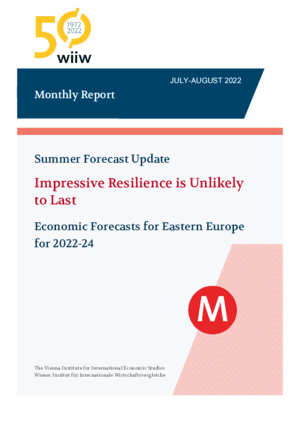 publication_icon
Vasily Astrov, Alexandra Bykova, Rumen Dobrinsky, Selena Duraković, Richard Grieveson, Doris Hanzl-Weiss, Gabor Hunya, Branimir Jovanović, Niko Korpar, Sebastian Leitner, Isilda Mara, Bernhard Moshammer, Olga Pindyuk, Sandor Richter, Bernd Christoph Ströhm, Maryna Tverdostup, Nina Vujanović, Zuzana Zavarská and Adam Żurawski
wiiw Monthly Report No. 7-8, July-August 2022
58 pages including 4 Tables and 21 Figures
OVERVIEW 2020-2021 AND OUTLOOK 2022-2024
Premium Members only
Summary of key recent macroeconomic data for CESEE, and overview of new wiiw forecasts for 2022-2024 (Excel file)

Summer Forecast Update
Impressive Resilience is Unlikely to Last
Economic Forecasts for Eastern Europe for 2022-24
Despite impressive resilience among CESEE economies so far, intensifying supply-chain bottlenecks, soaring commodity prices and a decrease in external demand will weigh on growth during the second half of 2022. Consumer and business confidence is declining, and high inflation will increasingly eat into real household incomes. However, with the exception of the CIS and Ukraine, CESEE is expected to avoid a recession in 2022. Russia appears to be more resilient in 2022 than we had previously expected, but this is mainly because the full impact of the oil embargo will be felt in 2023. For Ukraine and Moldova, being granted EU candidate status represents a decisive step towards their EU integration; although the accession process may last a long time, the status will provide a stronger anchor for the reform process in the two countries than previous bilateral institutional arrangements. All forecasts in this environment are subject to a very high degree of uncertainty, reflecting the unpredictability of the future course of the war. Downside risks are high, owing in particular to the potential for a further reduction in Russian gas supplies during the winter, and the possibility that high inflation and tighter monetary policy will cause financial turbulence.
CESEE Overview by Olga Pindyuk
High inflation spurred by Russia's war in Ukraine is causing slower growth in CESEE, but a recession should still be avoidable for most. 
Challenges for Austria in light of the war in Ukraine by Bernhard Moshammer
Due to its high reliance on Russian energy, Austria is vulnerable to a winter gas shut-off, but the prospects for labour market integration of Ukrainian refugees are fairly good.
Country updates:
Albania: Inflationary pressure is holding back consumption and growth by Isilda Mara
Belarus: Sliding into a deep recession by Rumen Dobrinsky
Bosnia and Herzegovina: Political turbulence and inflation take their toll on the economy by Selena Duraković
Bulgaria: A new political crisis raises economic uncertainty by Rumen Dobrinsky
Croatia: No respite in sight by Bernd Christoph Ströhm
Czechia: Headwinds proving strong and persistent by Zuzana Zavarská
Estonia: Clouds are gathering as autumn approaches by Maryna Tverdostup
Hungary: The emergency brake is being applied by Sándor Richter
Kazakhstan: High oil price is favourable for growth, but geopolitical risks remain by Alexandra Bykova
Kosovo: Remittances come to the rescue by Isilda Mara
Latvia: War-induced slump kept in check by Sebastian Leitner
Lithuania: Reduced purchasing power of households amid a tightening labour market by Sebastian Leitner
Moldova: Recession ahead by Gábor Hunya
Montenegro: Inflation will weigh on growth by Nina Vujanović
North Macedonia: When inflation runs out of control by Branimir Jovanović
Poland: So far so good by Adam Żurawski
Romania: Adverse impacts of inflation and war come with a delay by Gábor Hunya
Russia: Currency rebound delays the peak of the crisis by Vasily Astrov
Serbia: Still standing by Branimir Jovanović
Slovakia: Negative risks cloud the outlook by Doris Hanzl-Weiss
Slovenia: Regional outperformer by Niko Korpar
Turkey: Foot to the floor, hoping for the best by Richard Grieveson
Ukraine: Persevering in time of war by Olga Pindyuk
Reference to wiiw databases: wiiw Annual Database, wiiw Monthly Database, wiiw FDI Database
Keywords: Keywords: CESEE, economic forecast, Central and Eastern Europe, Western Balkans, EU, euro area, CIS, Austria, war in Ukraine, Ukrainian refugees, energy dependence, EU accession, COVID-19, EU Recovery and Resilience Facility, economic growth, labour markets, inflation, stagflation, monetary policy, fiscal policy
JEL classification: E20, E21, E22, E23, E24, E31, E32, E5, E62, F21, F31, H60, I18, J20, J30, O47, O52, O57, P24, P27, P33, P52
Countries covered: Albania, Belarus, Bosnia and Herzegovina, Bulgaria, CESEE, CIS, Croatia, Czechia, Estonia, EU-CEE, European Union, Hungary, Kazakhstan, Kosovo, Latvia, Lithuania, Moldova, Montenegro, New EU Member States, North Macedonia, Poland, Romania, Russia, SEE, Serbia, Slovakia, Slovenia, Turkey, Ukraine
Research Areas: Macroeconomic Analysis and Policy